René Descartes
---
Result of 150 years of business experience, the Descartes combines the benefits of a unique design, modern equipment and the expertise of internationally recognized teams. In all areas, cable ship (C/S) Descartes is the first level of performance among the units of the latest generation. The ship has installed more than 30,000 km of submarine cables, of which 8,200 km were buried.
An unrivaled tailored design
C/S Descartes was designed according to the technical specifications defined by Orange Marine. As she is equipped with the state-of-the-art technologies, she answers at best the highest market requirements.
Power and excellence
144.50 meters long and 22 meters large, C/S Descartes is one of the biggest unit of the world fleet. She is also one of the most powerful:
her engine allows her a towing capacity of 125 tons to operate submarine ploughs
she may tow up to 65 tons without tug assistance, even against strong currents (2 knots) and cross-winds (25 knots)
Maneuverability and precision
With 7 thrusters – propellers – and two rudders, C/S Descartes demonstrates good maneuverability and excellent station-keeping capabilities. The Dynamic Positioning system interfaced with various positioning systems – differential GPS, taut wire – is securing high levels of sea-keeping capabilities, even at sea state 6. The three electric cable engines allow accurate cable operations during laying or repair.
Operational range
This huge cable ship may stay at sea during two months on laying operations. Provided with three tanks of 1,000 m3 each plus a spare tank of 200 m3, cable ship Descartes may load 5,800 tons of cable and 210 repeaters. She is able to lay up to 6,000 km of cable without interruption, the equivalent of a transatlantic submarine system.
Speed of response on maintenance operations
In the maintenance field, the time premium is a major factor. Cable ship Descartes offers the fastest speed of response to repair requirements: she may load the cable with three cable engines and sail at 16 knots.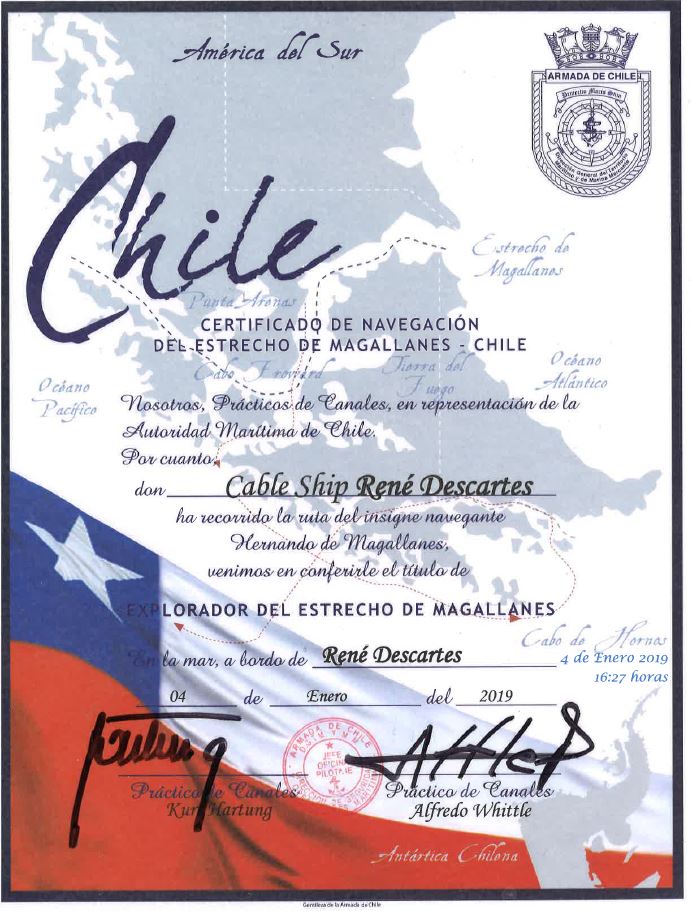 In 2019 the cable ship René Descartes received the certificate of explorer of the canal of Magellan and Cape Horn from the Chilean authorities.