Certifications
---
Quality of service
Orange Marine is renowned for its teams' expertise, and has the advantage of a human-sized company. Our customers thus always find an attentive ear to their expectations at all levels of the company.
Head management, in particular Sales and Marketing Department – customer relation, contracts negotiation – and Engineering & Expertise Department – project management
Marine Bases Directors – contract managers, reachable 24 hours a day
Chiefs of mission – managing the relationship with the customer's representative aboard the cable ship
Quality, Safety, Environment Department – in charge of the management system
To ensure the highest quality of service, Orange Marine delivers a specific quality plan for each contract, which includes the explicit and implicit requirements of customers, and describes the means used to achieve them.
Engaged in a process of continuous improvement, Orange Marine strives to offer the best quality of service, meeting or possibly exceeding customer requirements.
Safety of teams and crews
Orange Marine is very attentive to the working conditions of its employees. Our aim: to protect every employee, regardless of his/her position and prevent health risks.

To achieve this goal, Orange Marine uses different means:
ongoing dialogue between decision makers and representative bodies,
familiarization of workers to the risks associated with their activities and training on prevention,
provision of appropriate protective equipment,
continuous improvement taking into account accidents and near-misses to continue strengthening, safety and anticipate risks,
active prevention policy, through the drafting of intervention plans and the organization of regular situational trainings.
All Orange Marine sites and ships are certified ISM – International Safety Management Code – International Management Code for safety management, reference to establish in each Armament a system of prevention of injury to persons, properties and environment.
Environmental management
Orange Marine is certified ISO 14001. It means our company is voluntarily committed to assess and manage the impacts of its activities on the environment, in a process of continuous improvement and in compliance with regulations.
Orange Marine environmental policy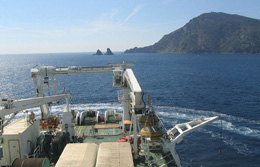 In concrete terms it means:
continuously monitor our activities to get a precise evaluation of their impacts,
implement prevention and intervention plans to ensure optimum management of refuses and prevent any pollution,
take decisions aiming at reducing natural resources consumption and gaseous emissions,
integrate environmental constraints in all our activities, including in the design of new ships,
control refuse management system on marine bases and ships, to reduce the quantities produced and limit releases on one hand, and to supervise the selection of approved suppliers to ensure adequate treatment of waste on the other hand.
Security of properties
 Properties security includes measures implemented to:
protect installations against sabotage, hacking, piracy, theft, terrorism and any kind of malware,
ensure the integrity of the sites,
prevent any insidious or malicious action.
 In practice, it mainly means:
monitor and securing access to sites,
implement trainings to security alerts.
To enter Orange Marine sites, you will have to show an identity card or a professional badge showing the official identity.
Quality safety environment
Orange Marine is certified ISO 9001 and ISO 14001, to guaranty a standard of service quality. Each employee is committed to offer the best service every day.