Léon Thévenin
---
 Built in 1983, the Leon Thevenin is a multipurpose cable ship specialized in maintenance operations.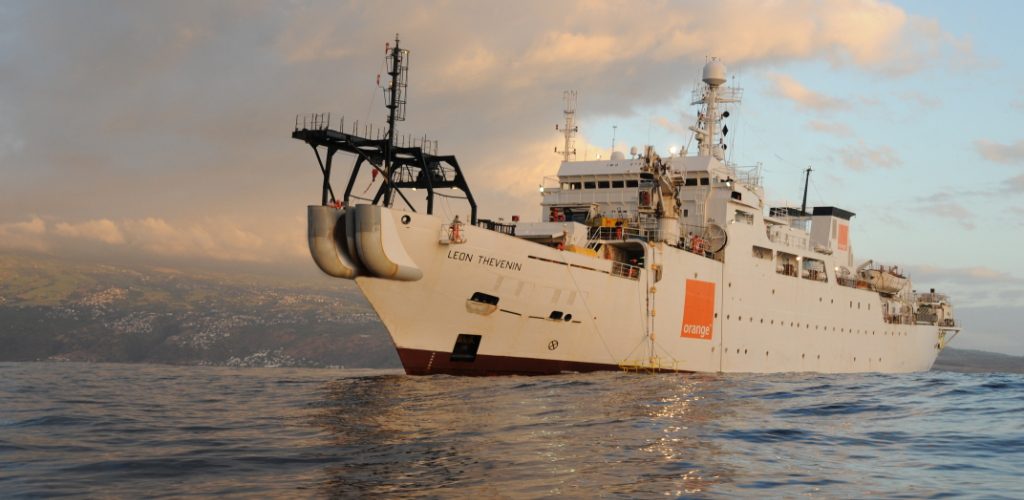 She is acknowledged for the speed and efficiency of her interventions, even with extreme weather conditions.
Cutting-edge tools and expertise
The cable ship is equipped with traditional cable works tools – grapnels, buoys, ropes, dead-weight but also with a modern device, the ROV. This remotely operated vehicle is used for different operations on the fiber optic cables: detection, cutting, recovery, jointing and testing. The Thevenin is capable of operating repairs in very shallow waters, as well as in deep waters – between 10 and 7 000 meters.
Work in extreme conditions
Cable ship Thevenin is able to operate in extreme conditions. With her high freeboard, she may sail in deep seas with poor weather conditions. The bows – located 8 meters above the sea level – allow to work in sea state 6, with waves up to 6 meters.  The powerful propulsion and the Dynamic Positioning system are securing high levels of sea-keeping capabilities even with strong current and wind. The ROV Follow device allows an optimum positioning between the ship and the submarine vehicle during the diving operations.
Find out more