Orange Marine will partner with ASN for the deployment of the new subsea cable system in New Caledonia
OPT-NC (Office des Postes et Télécommunications de Nouvelle-Calédonie) has selected the proposal of Alcatel Submarine Networks (ASN) to build and deploy its second submarine cable. For this project, ASN will partner with Orange Marine and Axians.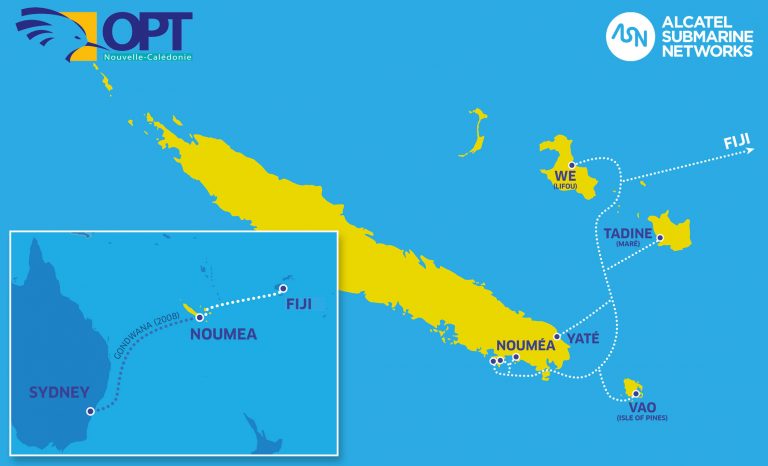 Orange Marine will be responsible for the deep-sea survey and submarine cable installation, which will secure the connectivity of all New Caledonians and provide quality connectivity to the inhabitants of the Loyalty Islands and the Isle of Pines via a fibre optic link.
Axians will be in charge of environmental studies, shallow water surveys, shore-end to the 8 landing stations, as well as civil works for all stations along with land cable pulling.
This new system, which will complement the existing Gondwana cable between Noumea and Sydney, is designed to avoid any service interruption or Internet disruption by securing all New Caledonia's communications, both international and domestic, and to enable the two islands of Loyalty Islands and Isle of Pines to have access to very high speed broadband.
For this new system, the design proposed by ASN ensures perfect resilience in case of an outage, thanks to the route diversity brought by the international connection, as well as the greater reliability provided by a new domestic loop. The international part of the system will be deployed between New Caledonia and Fiji, bringing the territory closer to its South Pacific neighbours and enabling New Caledonia to play an important role in the region's digital development. While preserving its sovereignty and independence through the exclusive use of this new submarine cable, the connection to Fiji will enable New Caledonia's integration into a meshed regional network with direct access to all the countries in the region: Vanuatu, Tonga, Samoa, Wallis & Futuna, the United States (Hawaii) and Australia (Sydney). Thanks to the Picot-2 cable, the domestic segment will link the South of Grande Terre to the Isle of Pines, Yaté, Maré and Lifou, and will provide redundant connections around Noumea, creating a reliable and secure communications loop for the entire territory.
After having deployed almost all submarine systems in the region, and building on this extensive experience in the South Pacific, ASN will also be supported by the expertise of its two partners, Orange Marine and Axians, to carry out this new project, which is scheduled to be in service in early 2022.