Pierre de Fermat
---
A polyvalent cable-ship at the cutting-edge of technology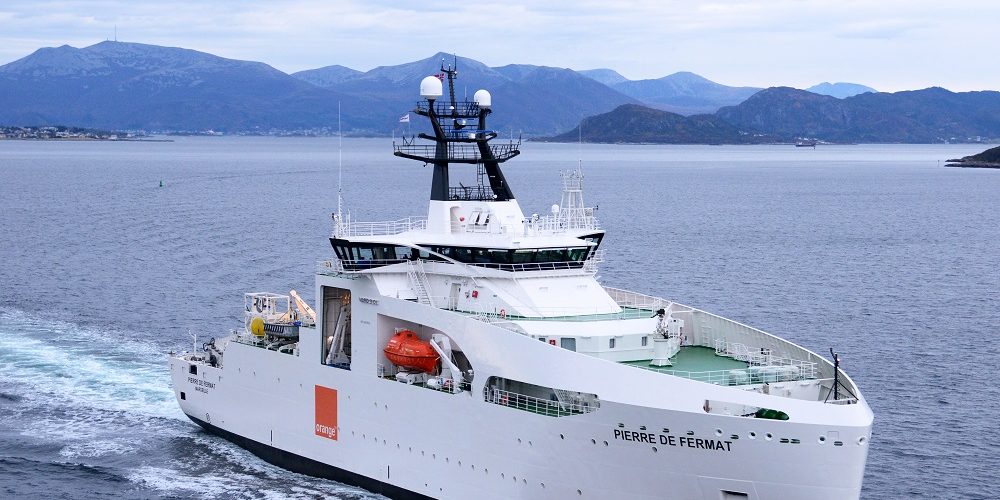 The cable-ship Pierre de Fermat is designed to manage the installation and maintenance of all kinds of submarine cable, including fiber optic cable for the telecommunications sector or energy cables.
Thanks to the innovative design of the hull, engine and thrusters, the power-to-fuel consumption ration has been optimised.
A fully-equipped submarine robot, or ROV (Remotely Operated Vehicle), will enable the vessel to undertake all operations including the "survey" or pre-inspection of the seabed and the cutting of trenches to bury the cable.
Such submarines are designed, manufactured and operated by Orange Marine through its Deparment SIMEC. For the design of this new cable-ship, the respect for the environment was a critical factor.
As a result, to help protect marine ecosystems, the vessel's design includes a hydrodynamic hull shape, and the ship is equipped with a ballast-water retreatment facility and anti-fouling paint that does not use a biocide coating.
Orange Marine has commissioned VARD, one of the world's leaders in the sector, for the construction of the vessel.
The cable ship, which is operational since 2014, takes responsibility for the maintenance of submarine cables in the Atlantic and Northern Europe zone.
She will also play an important role in the development of Orange Marine's activity in the marine-based renewable energy sector, an activity that is due to take a prominent role in the subsidiary's strategy in the coming years.
Find out more